Welcome to "The Laundry Room"!
An art exhibition exploring the domestic and personal aspects of laundry as women's work
On show now from September – November 30, 2023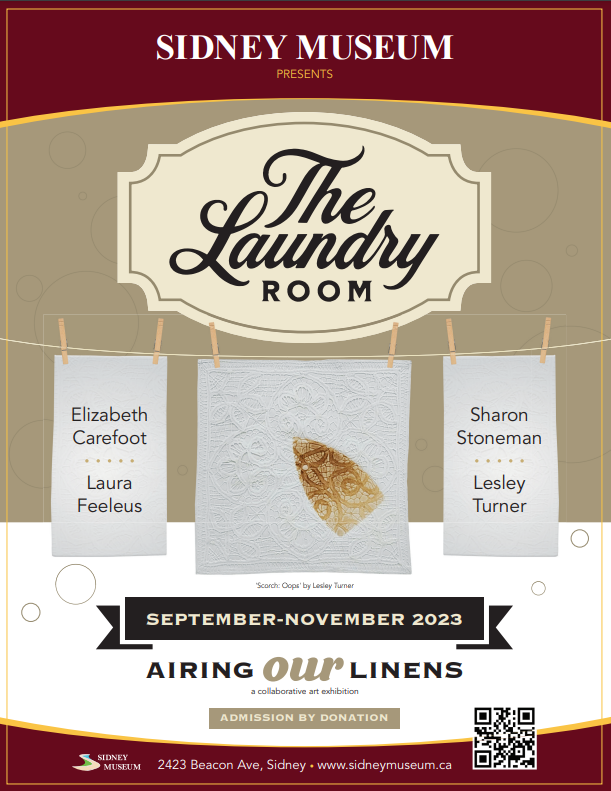 The Laundry Room exhibition is a result of women reflecting on their past, present, and future experiences with the laundry, reflecting, often with tongue in cheek, on the social, personal and political aspects of this activity.
After graduating from the University of British Columbia with a Bachelor of Education degree in Fine Arts, Elizabeth Carefoot took post-graduate etching and painting courses at the Emily Carr College of Art and Design. She then took training as a cine-animator with John Dunn of Disney Studios.
Elizabeth was fully employed at Simon Fraser University for 35 years, first as a Cine-Animator, then as a graphic Designer and illustrator. She is now retired.
Although she works in a variety of media, she is primarily a fibre artist working with soft sculpture, stitchery, and knitting. Elizabeth also created acrylic paintings small box constructions, collages, and coloured pencil drawings.
Internationally, her work can be found in collections in Brussels (Belgium), New York City (USA), Bangor (Wales), Sapporo (Japan), and Bogota (Colombia). The Surrey Art Gallery has three of Elizabeth's prized-winning soft sculptures in their Permanent Collection. She is also the recipient of the Surrey Civic Treasure Award.
Laura Feeleus graduated with a Diploma in Fine Art from the Vancouver Island School of Art (Victoria, BC, Canada) in 2010. She has exhibited her painting and fibre works in Canada and the United States for the last 25 years. Her life before art took over was based in library sciences (BLS, University of Alberta) and business (CMA/CPA Alberta).
Laura is one of the founding members of arc.hive artist run centre in Victoria, BC and participates regularly with the Vancouver Island Surface Design Association, and with Gage Gallery in Victoria.
Lesley Turner has a BA(Hons) 1st class in Embroidered Textiles in Middlesex University, London, UK, and holds a City and Guilds of London Institute certificates in embroidery and design, a University of Calgary certificate in Visual Design, and is a Master Knitter of Canada.
She has exhibited across Canada, the United Kingdom, Germany, and South Korea. Using familiar domestic textiles in her artwork raises awareness of social issues and supports her goal to bring about changes in attitudes and tolerance of differences.
I am a lifelong maker and learner. In the 1980's I fell into the world of quilting and that world has sustained and nourished me for forty years. Through textiles, through colour, texture and pattern I have been able to express myself and surround myself with beauty. Along the way I have studied with passionate and dedicated teachers and collaborated with fellow artists. My work has been exhibited in Canada and Australia.
Being invited to contribute to The Laundry Room project has been an opportunity to work completely outside my usual style and media. Inspired by the work of Helga Stentzel I have asked myself questions like – 'How to you make a lamb from a pillow case' and 'What shape is an emu, exactly'. For these constructions I have set myself certain constraints – the materials are articles of clothing or household linens, which are folded, pinned or clipped – no permanent alterations. Some people look at clouds and see sailing ships. Others look at laundry on the line and see critters!