Take a walk through time and discover the natural history of the area, followed by regularly updated permanent displays on local First Nations, industry, transportation, agriculture and social history.
In addition to our permanent exhibits, the Sidney Museum also features showcase exhibits changing throughout the year. Check out the exhibition schedule for full details on what is coming up soon.
Sidney Museum was established in 1971 with a mandate to acquire, preserve and make available the heritage, culture and interests of the Saanich Peninsula. It has proudly served the Saanich Peninsula community ever since. To date, the permanent museum collections contains over 8,000 artifacts and even more archival images and documents, many of which are regularly exhibited in the Sidney Museum's permanent exhibition galleries. The Archives are available by research appointment and contain a large collection of documents, local newspapers and photographs.
CLICK to view our latest newsletter!
The Sidney Museum and Archives is located in Sidney/SET,TINES on the traditional territory of the W̱SÁNEĆ People.
We are grateful for the opportunity to live, learn and work alongside the BOḰEĆEN (Pauquachin), SȾÁ,UTW̱ (Tsawout), W̱JOȽEȽP (Tsartlip) and W̱SÍḴEM (Tseycum) First Nations.
The Peter Garnham Gallery
In recognition of recently retired executive director Peter Garnham's more than 25 years with the museum,  the lower gallery of the Sidney Museum will now be know as the Peter Garnham Gallery. 
Congratulations Peter and thank you for your years of service and dedication!
A very special thank you to the Saanich Peninsula Community Foundation for their generous support allowing Sidney Museum to upgrade their security camera system.
2019 Not-For-Profit of the Year!
The Sidney Museum was thrilled to be among the many worthy nominees from across the Saanich Peninsula for the 2019 Saanich Peninsula Chamber of Commerce Crystal Awards. We are very proud to say that we took home the award for Not-For-Profit of the year! Thank you to our hard working volunteers, sponsors and community partners for making our work possible. Thank you as well to the wonderful folks at The Butchart Gardens for hosting the gala, and to the Chamber for all their hard work championing Peninsula businesses/organizations.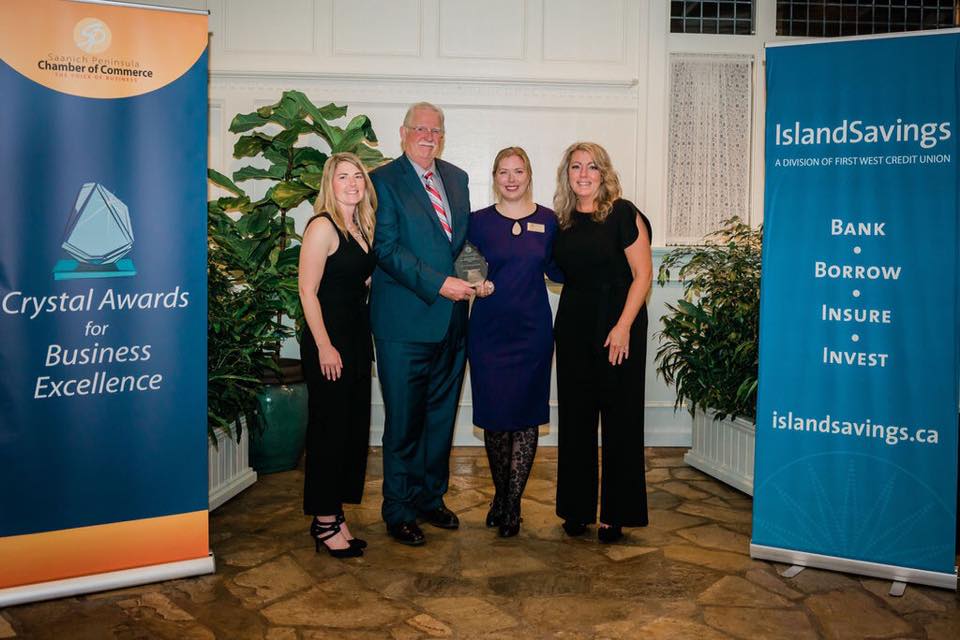 Open 10:00 am - 4:00 pm Daily
Wheelchair entrance located via rear door.
Both levels of the museum are accessible by elevator.