Take a walk through time and discover the natural history of the area, followed by regularly updated permanent displays on local First Nations, industry, transportation, agriculture and social history.
In addition to our permanent exhibits, the Sidney Museum also features showcase exhibits changing throughout the year. Check out the exhibition schedule for full details on what is coming up soon.
Sidney Museum was established in 1971 with a mandate to acquire, preserve and make available the heritage, culture and interests of the Saanich Peninsula. It has proudly served the Saanich Peninsula community ever since. To date, the permanent museum collections contains over 8,000 artifacts and even more archival images and documents, many of which are regularly exhibited in the Sidney Museum's permanent exhibition galleries. The Archives are available by research appointment and contain a large collection of documents, local newspapers and photographs.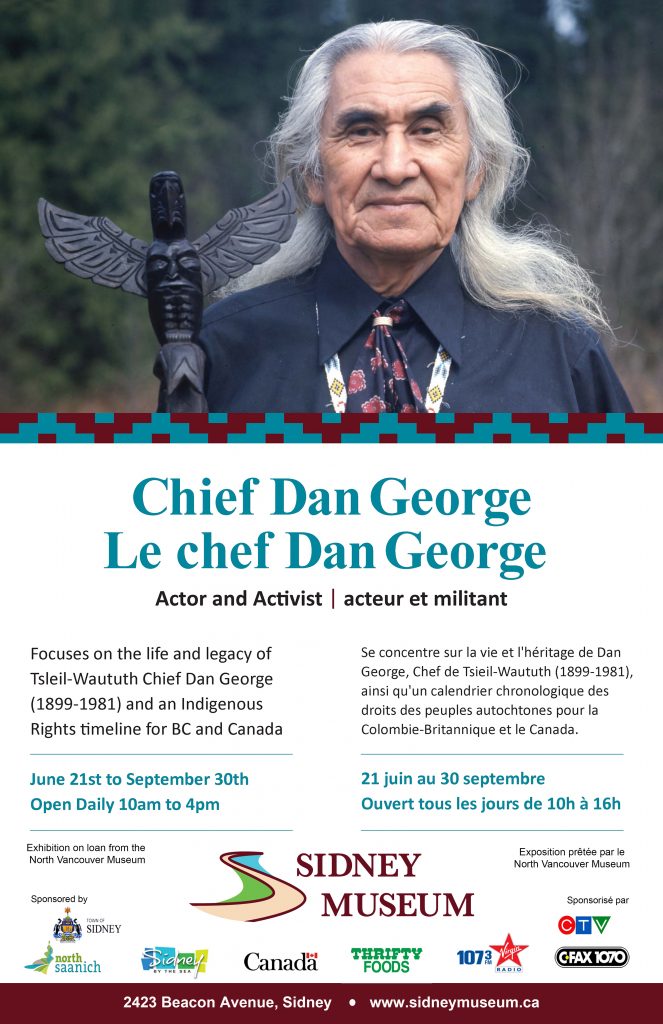 Chief Dan George - Actor & Activist
June 21 - September 30, 2019
Opening on National Indigenous Peoples Day (June 21st), Sidney Museum will be hosting the Chief Dan George: Actor and Activist exhibit, which explores the life and legacy of Tsleil-Waututh Chief Dan George (1899- 1981) and his influence as an Indigenous rights advocate and his career as an actor. The exhibition was developed by the North Vancouver Museum in close collaboration with the George family and has spent the last year at U'mista Cultural Centre in Alert Bay.
Longshoreman, actor, musician, lecturer, poet, activist, environmentalist and First Nations leader; Dan George (born Geswanouth Slahoot) is remembered for many things. Raised on the Burrard Indian Reserve #3, the son of hereditary chief George Sla-holt, Dan George spent much of his life working as a longshoreman and logger and did not start his acting career until in his 60s. During the 1960s and 70s, he appeared in many television, movie and stage productions in which he worked to promote a better understanding of Indigenous people and challenged their common portrayal on screen. Although focused on Dan George, this exhibition will also delve into significant events and individuals in the Indigenous rights movement in BC and Canada.
This exhibit is funded in part by the Department of Canadian Heritage Museums Assistance Program and was honoured by the District of North Vancouver with a Heritage Advocacy Award for Indigenous program collaboration.
For more information please contact Sidney Museum info@sidneymuseum.ca or call (250) 655-6355
2019
January 2 to March 31, 2019
LEGO SHOW
April 2 to June 13, 2019
TEN FOLD QUILTS
October 2 – November 12, 2019
W̱SÁNEĆ ART & CULTURE
November 15 – December 31, 2019
TOYS 'N TEDDY BEARS
~
2020
Schedule coming soon
Open 10:00am – 4:00pm daily
Closed Christmas Day, Boxing Day and New Years Day
2423 Beacon Ave
Sidney, BC V8L 1X5
(On the corner of 4th Street and Beacon!)