Take a Walk Through Time!
The safety of our guests and staff is our top priority. As we re-open the Sidney Museum to the public, we ask you to work together with us to keep the museum a safe space for yourself and everyone else. Things are going to be different when you visit, but we are looking forward to welcoming you back to the Museum.
The Museum will be entry by Timed Admission only with modified days of operation and limited capacity.
Take a walk through time and discover the natural history of the area, followed by regularly updated permanent displays on local First Nations, industry, transportation, agriculture and social history.
In addition to our permanent exhibits, the Sidney Museum also features showcase exhibits changing throughout the year. Check out the exhibition schedule for full details on what is coming up soon.
Sidney Museum was established in 1971 with a mandate to acquire, preserve and make available the heritage, culture and interests of the Saanich Peninsula. It has proudly served the Saanich Peninsula community ever since. To date, the permanent museum collections contains over 8,000 artifacts and even more archival images and documents, many of which are regularly exhibited in the Sidney Museum's permanent exhibition galleries. The Archives are available by research appointment and contain a large collection of documents, local newspapers and photographs.
Starting July 16th
(Lower Gallery)
Paul Henderson scores the winning goal in the 1972 Summit Series. A little boy runs after his father marching off to war. Terry Fox is silhouetted by headlights of a police cruiser on his Marathon of Hope. Exploring unforgettable moments in our history, the travelling exhibition Snapshots of Canada pairs compelling images with texts by well-known authors, journalists and historians. Images ranging from high drama to simple joy are tangible reminders of the triumphs, failures and sacrifices that have shaped our country.
A travelling exhibition developed by the Canadian Museum of History and Canada's History Society.
Exhibit text is bilingual in both English and French.
Starting July 16th 2020
(Upper Gallery)
RESEARCH, RECONNECT and RE-ORG
Over nearly five decades, Sidney Museum has collected over 8,700 objects and many of these have never been on public display! More than 55,000 museums exist in the world, and typically 90% of their objects are in storage rooms. As collections grow, financial resources continue to dwindle, leaving museums struggling to ensure that their treasures in storage are adequately looked after and accessible. As we move our arefact collection to install disaster prevention measures, we are exploring all the objects that make up our collection. RE-ORG is a method developed by ICCROM and the Canadian Conservation Institute (CCI) that addresses Museum storage issues. This exhibit documents Sidney Museum's journey to the improvement of our storage facilities to better reflect Museum best practices. Join us and learn how we acquire, preserve and make available the heritage, culture and interests of the Saanich Peninsula community to across generations.
This project is funded through the Museums Assistance Program – Collection Management by the Department of Canadian Heritage.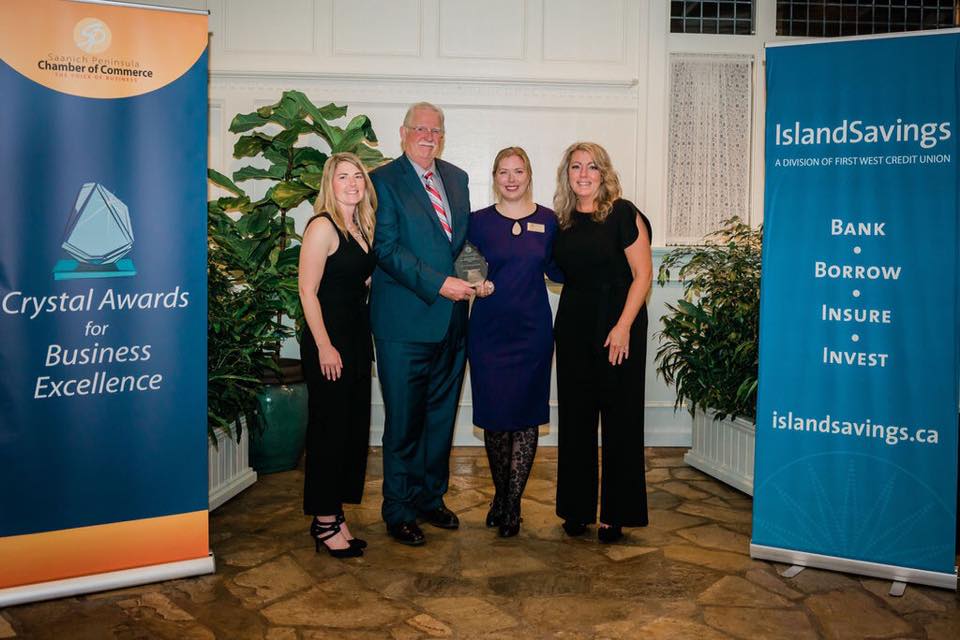 Not-For-Profit of the Year
This year, we were thrilled to be among the many worthy nominees from across the Saanich Peninsula for the Saanich Peninsula Chamber of Commerce Crystal Awards. We are very proud to say that we took home the award for Not-For-Profit of the year! Thank you to our hard working volunteers, sponsors and community partners for making our work possible. Thank you as well to the wonderful folks at The Butchart Gardens for hosting the gala, and to the Chamber for all their hard work championing Peninsula businesses/organizations.
2423 Beacon Ave
Sidney, BC V8L 1X5
(On the corner of 4th Street and Beacon!)
Wheelchair entrance located via rear door.
Both levels of the museum are accessible by elevator.