Emma Minato
You may be familiar with TV shows such as The Great Canadian Baking Show, Chopped and MasterChef, but food series were popular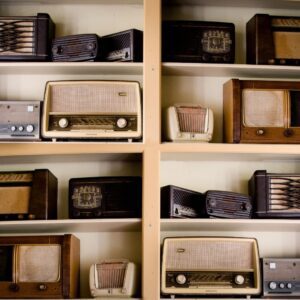 before the era of television. Between 1930 and 1955 was the Golden Age of radio in North America. During this time a large variety of programs were available including soap operas, children's programs, and comedies. You could even tune in for genres such as science-fiction, western, or horror. Among these were also programs on the topics of homemaking and cooking.
It took some time and development to get to the Golden Age of radio and Canadians had a hand in its early beginnings. Reginald Fessenden, a Canadian experimenter, transmitted the first music and voice signals in December 1906 from Massachusetts. Additionally, the first station to receive an experimental broadcast license in North America was located in Montreal in 1919. The station, XWA – standing for 'experimental wireless apparatus', conducted extensive experiments and then produced their first broadcast in May of 1920. During this year they also changed their call letters to CFCF – 'Canada's First, Canada's Finest'. 
Despite Canadians making strides in the development of radio, it was actually less accessible in Canada compared to America. Since Canada's small population was spread out across the land, it made it difficult to transmit to people living in more remote areas. About seventy-five stations were in the major cities by the late 20s, however they were not able to reach everyone because of the insufficient radio technology in Canada. It wasn't until the start of World War II that new transmitters were built allowing 90% of Canadians to listen to Canadian radio. Consequently, American programs were quite popular in Canada.
As radio programming started out, stations had to navigate a number of problems, including what content to produce to gain an audience. Some stations aimed to tap into the homemaking market. These shows typically included topics such as house cleaning, child rearing and cooking. Some radio shows focused solely on food, and would outline a recipe, provide cooking tips or answer questions during their broadcast. Many programs were produced by a company or sponsored by certain products, such as The Betty Crocker Cooking School of the Air. It was one of the first American food radio shows and started broadcasting in 1924. Betty Crocker was a fictional character created by the Washburn-Crosby Company as a spokesperson for their products. Although this was an American radio program, it may have been one of the first radio cooking programs listened to by Canadians. 
Another popular American radio broadcaster that Canadians likely listened to was The Mystery Chef. This recipe radio show actually sparked the topic of this blog post. While looking through the list of cookbooks we have in our archives, I came across "The Mystery Chef's Own Cook Book". The title intrigued me and after a brief google search I discovered the topic of recipe radio programs. The Mystery Chef was an early recipe radio program, which ran in the 30s and 40s. The man behind the program was indeed a mystery, since he kept his identity and personal life private. For most of his career, listeners did not know his name, however he revealed himself as John MacPherson before retiring from the air. His program featured frugal, easy recipes, which reflected the times, since his show debuted during the Great Depression. He would outline a recipe slowly and repeated everything twice to make sure an ingredient or step wouldn't be missed during his fifteen-minute segment. Although it would be interesting to listen to his recipe radio programs, only two recordings are known to remain in existence of all of the years he was on the air.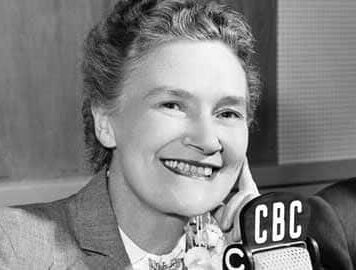 While American programs were popular to listen to in Canada, there were still Canadian programs that grew in popularity. One of the most popular Canadian broadcasters in the 40s and 50s was Kate Aitken, also known as Mrs. A. During the height of her popularity she had three million listeners; around a quarter of all Canadians at that time! She received hundreds of thousands of letters and had twenty-one secretaries to assist with answering her mail. Her programs were listened to nationally and internationally. She would discuss topics such as current events, housekeeping, fashion, etiquette and cooking. 
How did Kate become the most popular broadcaster in Canada? Kate was a go-getter and had extensive opportunities throughout her life in teaching and journalism that led her to radio. After settling on a small farm in Beeton, Ontario, she started a successful poultry business and became excellent at canning and preserving. So much so, that the Federal and Provincial Agricultural Departments hired her to lecture. At around the same time, she was also hired to be a part-time newspaper correspondent. Kate was able to continue to get new opportunities throughout her career such as writing assignments that allowed her to travel, teach cooking schools and start canning centers to help struggling farmers, to name a few. She always had multiple jobs on the go.
Okay, but really, how did Kate become the most popular broadcaster in Canada? It seemed to happen by chance. In 1934, a radio broadcaster broke her leg on the way to work. The station manager did some quick thinking and then rushed to ask Kate, who was giving a live cooking demonstration, if she'd mind being broadcasted. The show went live and was a success! Within the week, Kate had her own program. She was popular because her broadcasts helped her listeners to run their households, create hearty meals and connect them to current events. It had been said that listening to her broadcasts was like having a friend over for a visit. Her broadcasts can still be heard from the CBC Archives, however only eight broadcasts are known to exist. Kate was also an author so while most of her broadcasts are lost in time, we can still turn to her cookbooks for recipes and tips. Her cookbook, Kate Aitken's Canadian Cookbook, that was originally published in 1945 can still be purchased today. 
Radio, in general, opened up a way to spread news and provide entertainment in a manner quicker than ever seen before. It also allowed Canadians to connect from across the country in times of hardship such as the Great Depression and WWII. Before radio, recipes and cooking tips could only be shared through word of mouth, written media, or in-person demonstrations. With today's advancements other forms of media have dominated the scene, leaving radio stations to primarily broadcast news and music. Cooking entertainment made its way onto television and then onto the internet through social media platforms and blogs ~ like this one. We can now view and create cooking content on sites like Youtube and TikTok or easily share recipes and tips with friends over Facebook and Instagram. Despite the medium changing, what remains a constant is that food continues to connect us. We delight in sharing a passion for cooking, whether we are professionals or beginning home cooks.
Be sure to share on social media whatever you create and tag the Sidney Museum.
Facebook: @SidneyMuseum, Twitter: @SidneyMuseum, Instagram: @sidneymuseum
Wacky Cake

Recipe adapted from Simcoe County Museum's article on Kate Aitken

Wacky cake is a simple chocolate cake also known as crazy cake or depression cake. It doesn't use any eggs, milk, or butter and was popular during World War II when rationing was in place. It is said that Kate Aitken would promote Wacky Cake as an easy first cake to make for those beginning to cook.

Ingredients

1 ½ cups of flour

⅓ cup of unsweetened cocoa powder

1 cup sugar

1 tsp baking soda

½ tsp salt

1 tsp vinegar

1 tsp vanilla extract

⅓ cup vegetable oil

1 cup water

Method

Preheat the oven to 350 degrees. Grease a 13×9 pan.

Combine all of the dry ingredients in the greased pan. Whisk to mix. 

Make one large well in the center and two smaller wells on either side.

Pour the vinegar and vanilla into the small wells. Pour the vegetable oil into the large well. Lastly, pour the water over the top.

Whisk well to combine.

Bake for 30-35 minutes.

Cool completely, and add icing if desired.