Sydney Fuhrman
Watch our Education Coordinator attempt to make these Canadian favourites:
In 1993, in the tiny town of Glendon, Alberta, a massive statue was built. This town, with a population of just over 400, was now the proud owner of a 27ft high, 6000lb pierogi made of fiberglass and metal. They later added a fork to the statue, as no one was sure what it was.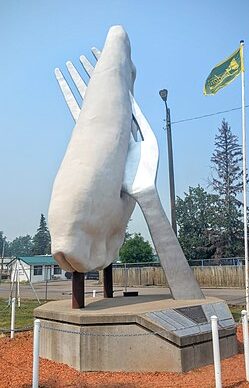 The "Giant Perogy" (the spelling of this snack is debated) is a testament to the Canadian favourite, and a symbol of survival for this small town. In the 1990s Glendon, AB was dying – so they needed something extraordinary to put them on the map, and they definitely did just that.
Pierogies are everywhere in Canada – in restaurants, banquet halls, food trucks, freezer aisles, and dorm rooms across the country you can find some version of this dumpling. 
Why do Canadians love pierogies so much? Well, I love them because they're simple, delicious and so easy to cook from frozen – just boil them till they float and serve with sour cream. (I recently discovered that making them from scratch is a bit more complicated…) More generally speaking, in Canada pierogies really took off in popularity after World War II, when they were served in restaurants run by Ukrainian and Polish immigrants and their families. 
But there's more to this Eastern European classic than that. Pierogies are primarily rooted in Polish and Ukrainian cultures – though the term "pierogi" is Polish, traditionally the Ukrainian version is called varenyky. We know that recipes for pierogies first began appearing in Polish cookbooks in the 17th century, but before then it's a bit of a mystery how they got their start. One story is that St. Hyacinth, the patron saint of the pierogi, brought them to Poland from Kiev in modern day Ukraine in the 13th century (that's right, these dumplings are so great they have their own saint). Another legend is that Marco Polo brought the idea of the pierogi to Europe from China, also in the 13th century. There are a lot of similarities between pierogies and jiaozi (Chinese dumplings), so it's possible.
Regardless of how they got their start, pierogies were a staple of the Polish diet by the 17th century, with specific pierogies made for certain holidays. 
There are countless different variations of pierogi, but what most Canadians are familiar with is the Polish pierogi ruskie: it's full of cheese and potatoes. Ruskie means "Ruthenian," which comes from "Rus," which is the historical region from which modern Ukrainians descend. So you're getting the picture; the term "pierogi" is Polish, but the dish we know and love has some strong Ukrainian roots.
Pierogies came to Canada with Polish and Ukrainian immigrants. A large wave of immigrants from Poland, Ukraine and other Eastern European countries occurred in the late 19th century until the beginning of World War I. While people from these nations had migrated to Canada before, this was now on a much larger scale. 
In the last decade or so of the 19th century the Canadian government was making a big push to bring European settlers to Western Canada. They made it a very appealing prospect by offering large plots of "free" farmland to new immigrants so they could make their lives. Of course, it is very important to note that while the Canadian prairies were largely empty of Europeans at this time, they were far from uninhabited. Different peoples have been living in the Prairies for over 13,300 years, and during the push to "settle the West" many Indigenous people lost their autonomy and their land. Today these are the lands of many Indigenous peoples including the Cree, Ojibwa, Oji-Cree, Nakoda Oyadebi (Assiniboine), Siksikaitsitapi (Blackfoot Confederacy) and Dene peoples.
In the 1890s the newly formed Department of the Interior advertised in other countries to encourage immigration to Canada. There was a particular push for Eastern European immigration at this time because of the belief that they would make good farmers in the harsh Canadian climate. As a result, Canada saw huge growth in immigration from Ukraine, Poland, Hungary, Germany and more, many of whom made their lives in the Prairies.
The 1890s weren't the only period that saw Eastern European immigration. People continued to immigrate to Canada from these countries throughout the 20th century, establishing families, communities and unique cultural centres. Eastern Europeans have immigrated in large numbers to all of the Canadian provinces and have made significant impacts on Canadian industry, politics, culture and more – pierogies are just scratching the surface.
Be sure to share on social media whatever you create and tag the Sidney Museum.
Facebook: @SidneyMuseum, Twitter: @SidneyMuseum, Instagram: @sidneymuseum
Pierogies

Recipe courtesy of Lorraine Gerwing

Makes approximately 40 pierogies

Ingredients

500ml sour cream

4 cups flour

1 tsp salt

5lbs potatoes, peeled and halved

1 peeled onion

1 cup cheddar cheese, shredded

Method

In a large bowl combine flour, salt and sour cream. Mix until it forms a ball. Refrigerate until needed.

Boil the potatoes and onion until fork tender, about 15-20 minutes. Drain. Let sit for a few minutes until they are still warm, but not too hot to handle.

Remove the onion, and mash the potatoes until they are your desired consistency.

Mix in the cheddar cheese. Set asides

On a lightly floured surface, roll out the dough until it is approximately 1/8 inch thick. Using a 3 inch cutter, cut circles in the dough and set aside, ensuring they don't stick together.

Assemble your pierogies: take one wrapper and place a heaping tablespoon of filling in the centre. Fold the dough over so it makes a half moon shape. Seal the pierogi either by pinching all along the side, or pressing down on the edges with a fork. Make sure it is completely sealed. Repeat until you run out of filling or wrappers.

Place the pierogies in boiling water for 3-5 minutes.* Scoop out with a slotted spoon.

Serve with sour cream.

*Cook time will be longer if your wrapper is thicker.

Pierogies can be frozen before they are boiled or after, if cooking from frozen, boil them until they float.