Sydney Fuhrman
Watch our Education Coordinator make this Icelandic-Canadian dessert:
Welcome back for this special edition Edible Artefacts post. 
Since opening our current exhibit, Connected Heritage, we've learned that there is a really important edible artefact connected with Icelandic-Canadian heritage. Meet Vinarterta, a holiday cake made up of several thin shortbread-like layers with a prune filling.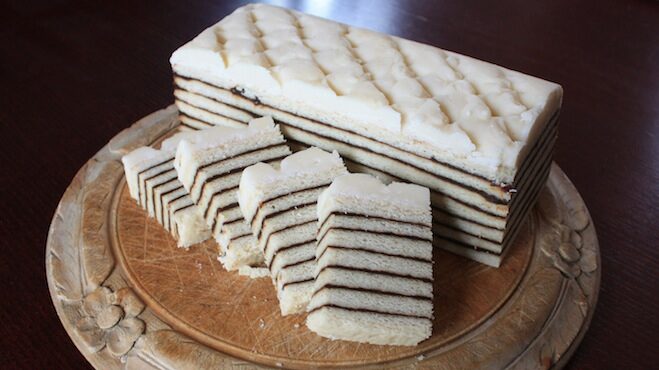 If you don't have Icelandic roots you might have never heard of this dish before, but let me assure you, it is as Canadian as they come. Vinarterta, which roughly translates to Vienna Cake, is an Icelandic dish that was brought to Canada by Icelandic immigrants. 
Now, as I'm sure many of you are aware, Vienna is not in Iceland. It's actually quite far away, in Austria. But, back in the 1700s, layered cakes made with almond flour and containing dried fruit were all the rage in Austria, and over time their popularity spread across Europe until in the 1790s they became fashionable in Denmark. It was something that was consumed by the wealthy Danes, and since Iceland was under Danish rule at the time, it also became popular with the fashionable people of Iceland. 
In the late 18th and 19th centuries Icelandic farmers and fishers couldn't afford to make cakes like the fashionable desserts from Europe. Many of the ingredients couldn't be produced in Iceland so they had to be imported to the Island. So over time the Icelandic people adapted the recipe to include ingredients that they had an easier time getting, like dried prunes, which were very commonly shipped to Iceland. 
As imports to Iceland increased, the popularity of this cake only grew, so when immigration to Canada picked up after 1875, Vinarterta was part of Icelandic culture that came with those who immigrated, and remains a part of Icelandic-Canadian culture to this day.
What's so interesting about this cake is that today it isn't really made in Iceland. It's popularity there has gone way down over the years. Now you are far more likely to find cakes with a cream filling instead of prune. But it's still popular in Icelandic-Canadian communities, making this a truly Canadian dessert. 
Here in Canada, members of the community are dedicated to preserving their Icelandic roots, including the authentic recipe for this cake. Of course, there is a lot of debate as to what the "authentic" recipe actually is. Is it a circular or square cake? Should the cake be spiced with cardamom or cinnamon? Do you spike the icing with vodka or bourbon? Should there even be icing? All of these answers change depending on the recipe you're following – which, in my opinion, makes this dish all the more intriguing. I mean, you know a dish has to be good when people are this passionate about how they make it!
So if you've never had Vinarterta before, I encourage you to give this recipe a go. It's a bit of a labour intensive process – but it's worth it to make a dish that is unquestionably Canadian, whatever recipe you follow.
Be sure to share on social media whatever you create and tag the Sidney Museum.
Facebook: @SidneyMuseum, Twitter: @SidneyMuseum, Instagram: @sidneymuseum
Vinarterta

Adapted from "Best Recipes from the Womens' Auxiliary of the Lutheran Church of Christ." Currently on display at the Sidney Museum

Ingredients

1 cup butter at room temperature

4 cups of sugar, divided in half

6 eggs, beaten

4 cups flour

4 tsp baking powder

1/4 tsp salt

1 tsp vanilla

1 tsp cardamom

2 lbs dried, pitted prunes

1 cup water

1 tbsp cinnamon

Chocolate icing (optional)

Method

1. Preheat oven to 350 degrees

2. In a large bowl, cream the butter. Then add two cups of the sugar and continue to mix until fluffy. Add the eggs and mix until well combined.

3. In a separate bowl whisk together the flour, baking soda and salt. Gradually work it into the batter. About halfway through, add the cardamom and vanilla. Mix until combined.

4. Divide the batter into five or six equal portions.

5. Working one at a time, roll or pat a portion of the batter onto a pan or cookie sheet into a thin layer. It should be about 1/4 to 1/2 an inch thick.

6. Bake for 10-12 minutes, or until a light golden brown.

7. Immediately remove from the pan and transfer to a wire rack to cool. Repeat until all the batter has been used.

8. To make the filling, boil the prunes and the water in a saucepan until the prunes are very soft and most of the water has evaporated – about 30 minutes. (This step can be done ahead of time)

9. Put the prunes in a food processor and blend until it is a thick, jam like consistency.

10. In a saucepan or double boiler, bring the prunes, 2 cups of sugar sugar and cinnamon to a boil and cook, stirring constantly until all the sugar has dissolved. Take extra care not to burn the mixture.

11. Assemble the cake. Place one of the baked layers on a tray and cover it to the edges with the prune filling, repeat until the last baked layer which is left with no prunes.

12. Cover the cake in tinfoil or plastic wrap and let sit for at least a day (and up to several) in a cool, dry place. The longer you let it sit, the softer the baked layers will be.

13. When you are ready to serve it,  frost the top layer with your favourite chocolate or vanilla frosting if desired.

14. Trim the edges of the cake to make it look polished, slice into small pieces and serve!