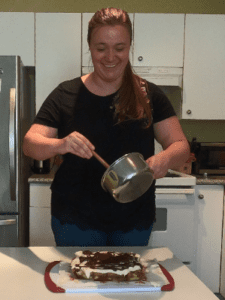 Food and stories go together perfectly. From sitting and eating with your family as you answer that standard parent question: "so how was your day?", to eating a big plate of snacks with friends during a movie marathon, or sharing s'mores around a campfire while you swap ghost stories. The food we eat does so much more than feed us.
Sometimes the food even has its own story; a treasured memory, a hilarious mix-up, or a local legend told over and over again with the details slightly changing each time. And often, food can tell an even bigger story. Just like an old magazine or a saddle from 1920, food and recipes can teach us about history. A recipe can tell us about how people lived – about food shortages, trends, new technologies, war, immigration, celebration and hardship. After all, we all have to eat. 
Welcome to Edible Artefacts! The Sidney Museum's digital exhibit on Canadian food history. 
Come enjoy a taste of history with us.
Read the stories, make the food and watch our Education Coordinator as she struggles to make some of these recipes for the first time. We'll be updating the exhibit weekly so be sure to keep checking back and keep an eye on our social media for our #FoodieFridays!
Reach out to us! If you have a recipe or a dish that you feel has a great story let us know. And if you make any of these yourself, share them with us. Send us an email at info@sidneymuseum.ca or post on social media and tag @SidneyMuseum. 
Bon appétit!