Sydney Fuhrman
Watch our Education Coordinator attempt to make this classic West Coast dessert: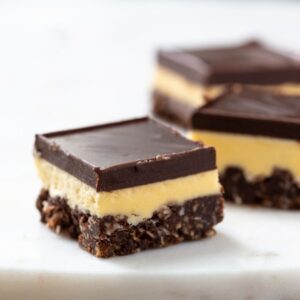 As a Vancouver Island museum, we can't have a digital exhibit on Canadian food history and not talk about the Nanaimo Bar. This triple layer, no-bake bar is a favourite of many coast-to-coast. In fact, in 2006 the National Post conducted a poll to determine Canada's favourite confection. The Nanaimo Bar won; is anyone surprised? 
Personally, I don't like Nanaimo bars. I never have. But it's not the bar's fault. I love the top two layers, but as mentioned in a previous post, I don't enjoy coconut and it is a strong flavour in this classic Canadian dessert. However, just about everyone else I know absolutely adores them. In fact, a friend of mine loves Nanaimo Bars so much that once on a visit to Vancouver Island she went to Nanaimo just so she could buy one where it all started. So I accept that I'm in the minority here.   
Like so many other popular foods, the exact history of this bar is unclear. We know that the first known printed recipe for this bar can be found in the 1952 Women's Auxiliary of the Nanaimo Hospital Cookbook. It wasn't called a Nanaimo bar at the time, it was a "chocolate square." But the next year the same recipe was published in Vancouver's Edith Adams' Cookbook with the name "Nanaimo Bar." However, there are so many stories of Nanaimo Bars being popular before then, that it seems likely the recipe has been around for much more than seventy years. People claim that these bars were often found in the lunches wives would pack for the miners in the Nanaimo area. There are even stories of bars like this being part of care packages sent to Nanaimo miners from families in England as early as the 19th century. Though this does bring questions of how long Nanaimo bars keep…. a boat trip from Nanaimo to England would be very, very long. 
We do know that the Nanaimo bar's popularity exploded after Vancouver's Expo 86, when the Nanaimo Bar was included in the official cookbook for the Expo, written by Susan Mendelson. From that point onwards, this Island classic has satisfied the sweet tooth of so many Canadians. 
Today you can get Nanaimo bar beer, ice cream, and coffee. This is one flavour you can't escape, especially on Vancouver Island. The City of Nanaimo even offers a Nanaimo Bar Trail that includes thirty four different stops in the city where you can get everyone's variation on this classic. They range from a traditional Nanaimo Bar, to cocktails, sundaes, spring rolls and even a pedicure! But they don't recommend doing the whole trail in one day. I think even the most dedicated of Nanaimo Bar enthusiasts would find that a bit too sweet. 
Much like the Butter Tart that we talked about last week, the Nanaimo Bar was honoured by Canada Post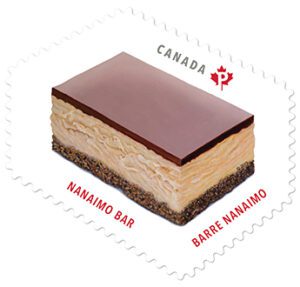 in 2019 when it was featured in the "Sweet Canada" stamp collection. Though, the stamp was not without some controversy. Apparently the image used for the Nanaimo Bar stamp is not an accurate depiction of the bar. The issue is the ratio; there is far too much filling and too little base. 
According to bakers and Nanaimo Bar enthusiasts, a proper Nanaimo Bar should be 50% coconut, wafer and nut base, 37.5% custard filling, and 12.5% chocolate topping (I've seen charts, people take this very seriously). The stamp had over 50% filling, causing many to question the structural integrity of the depicted bar, and to wonder if it was supposed to be a cheesecake version. 
Despite this debate, these postage stamps prove what we have all known for years; that Nanaimo Bars are an undeniable part of Canadian culture.
Be sure to share on social media whatever you create and tag the Sidney Museum.
Facebook: @SidneyMuseum, Twitter: @SidneyMuseum, Instagram: @sidneymuseum
Nanaimo Bars

Adapted from the City of Nanaimo's website.

Bottom Layer

Ingredients

1/2 cup unsalted butter

1/4 cup sugar

5 tbsp cocoa powder

1 egg, beaten

1 3/4 cups graham wafer crumbs

1/2 cup finely chopped almonds

1 cup shredded coconut

Method

Melt butter, sugar and cocoa powder in the top of a double boiler. 

Add egg and stir continuously until the mixture becomes thick and smooth. Do not let it boil.

Remove from heat and pour into a large mixing bowl.

Stir in crumbs, coconut and almonds. 

Press firmly into an ungreased 8″x8″ pan.

Second layer

Ingredients

1/2 cup unsalted butter, softened

2 tbsp and 2 tsp cream

2 tbsp vanilla custard powder

2 cups icing sugar

Method

Using an electric mixer, cream all ingredients together in a large bowl. 

Beat until light and fluffy.

Spread evenly over the bottom layer, base may crumble a bit, be careful not to pull up any of it.

Let sit in refrigerator while you make the chocolate layer.

Third Layer

Ingredients

4 oz semi-sweet chocolate

2 tbsp unsalted butter

Method

Melt chocolate and butter in a small pot over low heat. Stirring constantly. Once the chocolate and butter have completely melted and the mixture is smooth, remove from the heat and allow to cool.

Once the mixture has cooled, but is still liquid pour evenly over top of the second layer. 

Chill and set in refrigerator for 30-45 minutes.

Slice into bars and serve.*

*if the bars are difficult to cut, allow the pan to sit out for a few minutes to warm up a bit.